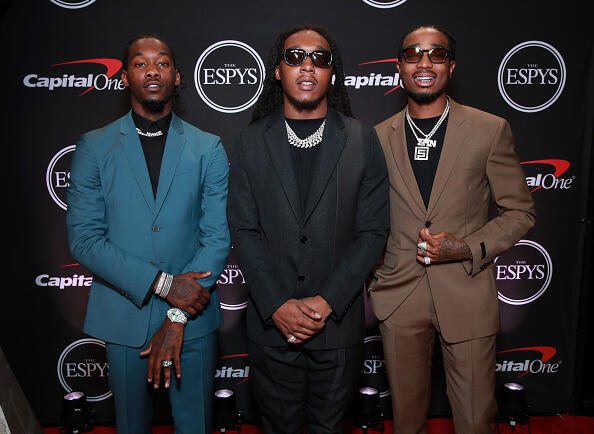 Takeoff has been accused of "forceful sexual intercourse,' according to a civil lawsuit filed in L.A.
An unidentified woman alleges that Takeoff raped her during a house party on June 22. She had plans to meet DJ Durel, for a date, having met him at a prior party.
Upon arriving at the house on June 22nd, Takeoff allegedly made repeated advances toward the woman that made her "uncomfortable,".
"Plaintiff clearly and unequivocally refused Defendant Takeoff's advances and stated to Defendant Takeoff that she did not want to have sex with him," the lawsuit claims.
"Notwithstanding Plaintiff's express refusal, Defendant Takeoff grabbed Plaintiff, flipped her over face-down, and pulled down her clothing. Defendant Takeoff then proceeded to have forceful sexual intercourse with Plaintiff from behind, without Plaintiff's consent. After Defendant Takeoff finished raping Plaintiff, he immediately left the room. After recovering from the initial shock of what had transpired, Plaintiff promptly walked out of the bedroom and immediately left."
The lawsuit states that the assault occurred shortly after 2 a.m., the woman visited the hospital the following morning, "where hospital staff observed physical evidence of forceful rape and notified the Los Angeles Police Department of the same."
The LAPD confirmed that there is an open investigation into the incident, but criminal charges have yet to be filed. Attorney, Neama Rahmani preemptively filed a civil lawsuit due to what he termed "lost confidence" in the LAPD's investigation.
"We hope that…the media attention will motivate the Los Angeles Police Department to pursue the criminal investigation more aggressively," Rahmani said in a statement. "Justice delayed is justice denied, and continues to victimize a [woman] who has already been victimized by the rich and famous."
Photos by Getty Images