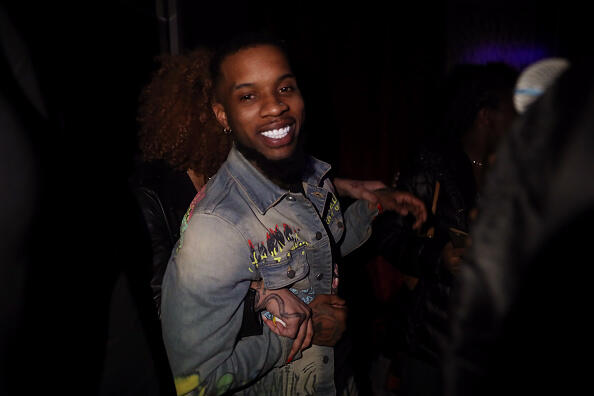 Fresh off of the release of New Toronto 3 Tory Lanez took to social media to celebrate. A DJ set on TikTok for his fans is how he went about it and just like on Instagram he set a new record for live streaming on the app.
"Shout out to TikTok. I don't know if y'all was at my DJ shit -- I'm kinda drunk, my bad," he said. "I just broke the record on TikTok for 70 thousand live viewers. Brand new people and all I did -- I ain't show no ass. There was no ass! There was no ass shaking. There was no call request. All I was doing was playing music and being me. I beat the record on TikTok! Please leave me alone. I love all my fans!"
Like many celebs in hip hop Tory Lanez took to Instagram during the covid lockdown. Creating his own interview show he called Quarantine Radio. Lanez invited hip hop royalty on and gathered quite a following trading stories and the like. His interview with Drake broke an IG Live record as the two toasted the event when the number went over 300,000 viewers. Then, earlier this week Instagram up and suspended Lanez's account. Why? IG Boss Adam Mosseri explains.
"Quarantine Radio is great, so shout out to Tory Lanez for that," Mosseri begins. "The lives have been great, the lives with the fans have been great. But you can't have nudity on Instagram. "That's part of our community guidelines, it's part of the rules and we can't make exceptions. And on a couple of those lives, on two accounts, there was nudity so we had to stop the live."
The incident in question is when Lanez had a woman stick a glass of milk between her bare butt cheeks.
"There's a short period of time where you can't go live again. We have to stick to the rules otherwise why do we have them? But generally, big fan of Tory Lanez, big fan of Quarantine Radio. I hope it comes back soon, but no nudity! We can't have that."
Lanez quickly replied by starting another account which in turn got over 27,000 followers in barely a minute. It now has 124,000 followers.
Photos by Getty Images