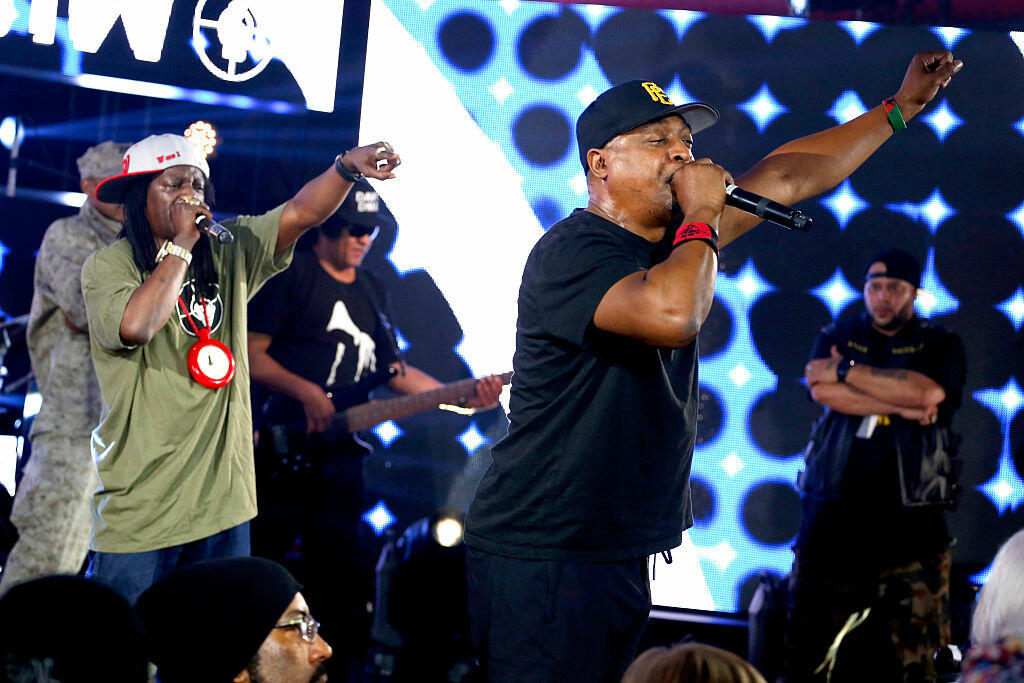 So let's take this from the top. Over 30 years ago rapper Chuck D, Flavor Flav, Professor Griff and DJ Terminator-X created the iconic hip hop group Public Enemy. They created awareness for black america, fear for white america, and revolutionized sampling in a way that altered music to this day. They blazed a trail through the music business so profound that they have become one of the few rap groups inducted into the Rock And Roll Hall Of Fame.
In recent years the group has not been performing or recording, but that hasn't stopped Chuck D from doing work. Recently he has been performing with a group he has formed and called Enemy Radio.
Certain venues still billed D's new group as Public Enemy including a rally for U.S. Democratic presidential candidate Bernie Sanders. This would reportedly enrage Flav so much so that he would issue a cease and desist order against Chuck D for performing under that name leading to his dismissal from the group. The confrontation would blow up all over the media and internet causing a fan outcry in favor of Flav.
Up until today when both Chuck D and Flav issued a statement that he and Flav created a fake split to manipulate attention and expose the media bias of reporting bad news about hip hop to gain interest.
Influenced by Orson Well's "War of the World's" hoax D stated in an interview on a podcast that there are stars today that are glorified merely by violent acts rather than artistic achievement and the media's need to push beefs rather than musical innovation.
The two released a single via Enemy Radio called "Food as a Machine Gun,". The song is an all out attack on the media machine and the labels that feed it. It appears on Enemy Radio's new album "Loud Is Not Enough".
"Our 'War Of The Worlds.' Believe half of what you hear and NONE of what you see," Chuck D said in a statement released by the band's publicity team.
Photos by Getty Images