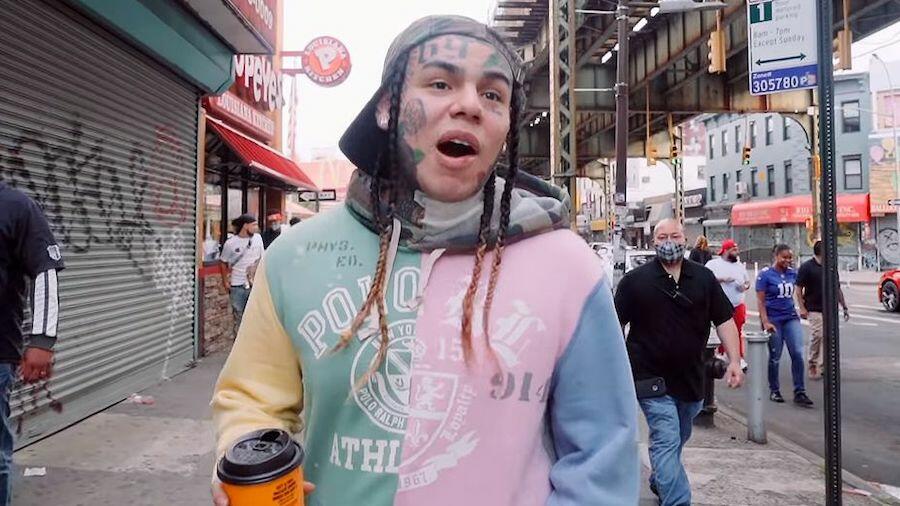 Tekashi 6ix9ine is now trolling gang members for calling him out for rolling with a huge security team.
Tekashi 69 took to Instagram to question 'gangsters'.
"To The Gangsters Across The World, You Rather Be Dead Or Have Security," Tekashi posted on IG.
The question came after he pulled up on a street in L.A. and started handing out and throwing $100 Bills into the air which many point out that Tekashi wouldn't be doing that if he was alone and not shadowed by armed bodyguards.
Tekashi has upset many people, especially after he made a visit to the neighborhood where Nipsey Hussle was shot and killed and insinuated in the past Nip may still be alive if he has more security with him.
People yelled at him in the streets and told him to leave. Tekashi 69 shared a video on Instagram of himself walking in Beverly Hills, and the crowd turned on him.
Tekashi was shopping near Rodeo Drive in Beverly Hills, but the crowd surrounded him to take pictures and yell expletives at him, and telling him to bail.
Tekashi's reaction is to stick his tongue out, and dance around in a circle as the crowd screams. People were upset for even putting everyone in the position for possible violence.
"This POS continues to put innocent lives in danger everyone standing there (not the 7 cops) but the bystanders,if a real one comes thru and starts shooting innocent lives are in danger. When they rock him to sleep I pray its clean no collateral damage," one person wrote .
Tekashi began the trip by tossing thousands of dollars in the air while walking down the street!
Photos by Getty Images