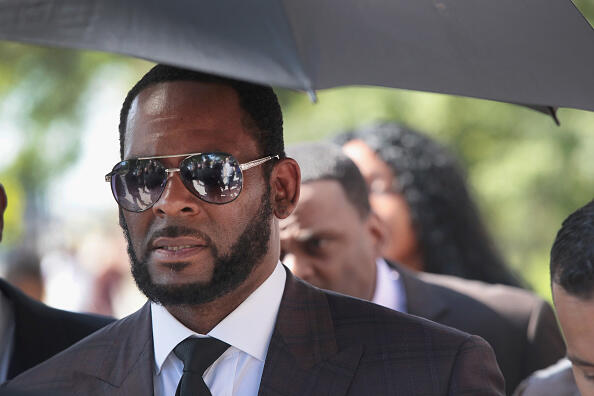 R. Kelly's manager, Donnell Russell has been charged by the U.S. Department of Justice for an alleged threat to shoot up an NYC theater when the Lifetime documentary, "Surviving R. Kelly," was being screened there.
The department claims Russell admitted to sending a cease-and-desist letter to try and end the screening, but when that failed, prosecutors alleged he phoned in the shooting threat and successfully stopped event, which was attended by a number of Kelly's alleged victims.
Russell was charged with 1 count of conspiracy to threaten physical harm and 1 count of threatening physical harm. Each charge carries a max sentence of 5 years in prison.
Russell is also 1 of 3 people charged for harassing and intimidating witnesses in Kelly's criminal cases.
Federal prosecutors charged three men of threatening and intimidating women who have accused R&B singer R. Kelly of abuse.
A longtime friend of Kelly offered to pay a victim $500,000 to keep her from cooperating in Kelly's prosecution and a manager of Kelly threatened to release sexually explicit photographs of a woman who sued Kelly. Prosecutors, also said Michael Williams, 37, of traveling to Florida and setting fire to an SUV parked outside a residence where one of Kelly's victims was staying.
A Kelly defense attorney said the singer was not involved.
"He hasn't attempted to intimidate anyone, or encouraged anyone else to do so," attorney Steve Greenberg said.
Kelly has pleaded not guilty to dozens of state and federal sexual misconduct charges in Illinois, Minnesota and New York.
The charges range from sexual assault to heading a racketeering scheme aimed at supplying Kelly with girls. Kelly also is accused of having unprotected sex with a minor in 2015 without disclosing he had herpes.
"The men charged today allegedly have shown that there is no line they will not cross to help Kelly avoid the consequences of his alleged crimes — even if it means re-victimizing his accusers," Peter Fitzhugh, special agent in charge of the Homeland Security Investigations in New York, said in a statement.
Photos by Getty Images