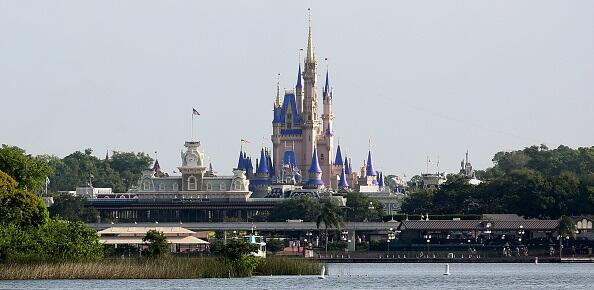 Attorney Ben Crump has filed a civil lawsuit against The Walt Disney Co. and the Orange County Sheriffs, on behalf of Hester Burkhalter, a 69-year-old woman from Hickory, and her family.
Crump said she "was wrongfully arrested and taken into custody at Walt Disney World in Orlando, Florida, for possessing federally legal CBD oil".
CBD is a natural anti-inflammatory derived from the cannabis plant.
A lawsuit has been filed in the Circuit Court of the 9th Judicial Circuit in Orange County against The Walt Disney Company and a number of its executives as well as the Orange County Sheriff. The suit alleges illegal detention, false arrest and violation of civil rights and requests $6 million in compensatory damages and $12 million in punitive damages for Burkhalter.
"The Orange County Sheriff's Office has not been served with a lawsuit, but in any case, we don't comment on possible pending litigation," it said.
According to accounts from Crump and Burkhalter, Burkhalter traveled with her husband, daughter, and two adopted children, to visit Walt Disney World last year. Burkhalter was asked to remove the contents of her bag while going through security which included a one ounce container of CBD oil, into a security bin.
Burkhalter told security she used CBD oil to treat arthritis per her doctor's recommendation and when asked if her substance contained THC, Burkhalter said she did not know, although the bottle read 0% THC.
A sheriff's deputy then tested the substance twice, getting a negative result the first time and positive result the second time. Burkhalter was then separated from her family and placed under arrest for felony drug possession. She was subjected to drug sniffing dogs, vomited during transport, and requested and was denied medical care. When Burkhalter arrived at the detention facility, she had her mug shot taken, instructed by other officers to strip naked and to 'bend over' for a body cavity search.
"It was the most humiliating day of my life," Burkhalter said.
Crump said they have asked Disney for an apology which, according to Crump, it has not given. Crump said the Orange County Sheriff's Office has been mostly silent except in trying to "defend their indefensible actions."
Burkhalter's son posted bail, and she was released shortly after midnight, ending a nearly 15-hour "ordeal.
Photos by Getty Images