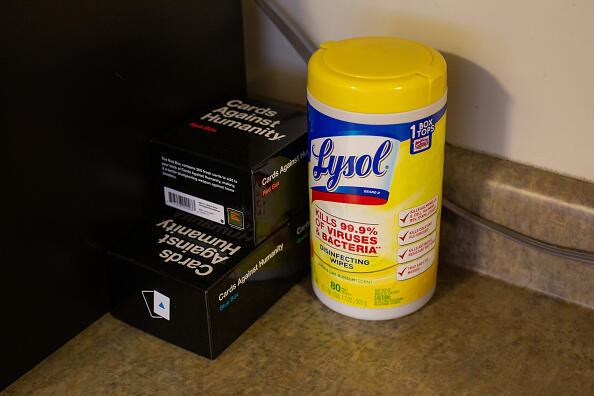 If you have disinfecting wipes these days you may want to use them on almost everything. But you should not. On certain surfaces, disinfecting wipes can do a lot more harm than good. Save them for the hard, nonporous surfaces and not..
Leather Purses or Upholstery disinfecting wipes contain alcohol and ammonia that can dry out the supple leather and damage its finish.
Granite Countertops cleaned with disinfecting wipes repeatedly can break down the sealant on the granite, leaving them vulnerable to long-term damage.
Eyeglasses can be eaten away at the delicate lens coatings.
Pearl Jewelry, swiping and scrubbing those heirloom pearls with alcohol-infused disinfecting wipes can damage softer stones including pearls, opals, and emeralds.
Your Toilet and Plumbing can use disinfecting wipes with no ill effects, but never flush them when you're done, wipes don't adequately dissolve when they're flushed, which can clog your pipes and mean big plumbing bills in the long run.
Delicate Clothing scrubbed with a disinfecting wipe can fade colors and damage more delicate acrylic and acetate garments.
Vehicle Touchscreens are vulnerable to the alcohol and ammonium compounds in the wipes.
Produce should never be cleaned, nor sshould fruit, veggies, or any other food with disinfecting wipes, as the ingredients are not meant to be ingested and may lead to vomiting.
Unfinished Wood Furniture or Floors acts as a sponge, it can absorb too much of the wipes' cleaning solution, eventually swelling, cracking, or warping.
Fabric Upholstery and Carpet can become discolored when used with certain cleaners.
Dishes and Food Storage Containers are bad. The chemicals in the wipes aren't meant to be ingested, of course, and can linger on hard surfaces.
Your Smartphone can be cleaned, but warns that you need to be gentle and stick to the hard outer surfaces, taking care not to get cleaner inside the charging ports or other openings.
Photos by Getty Images