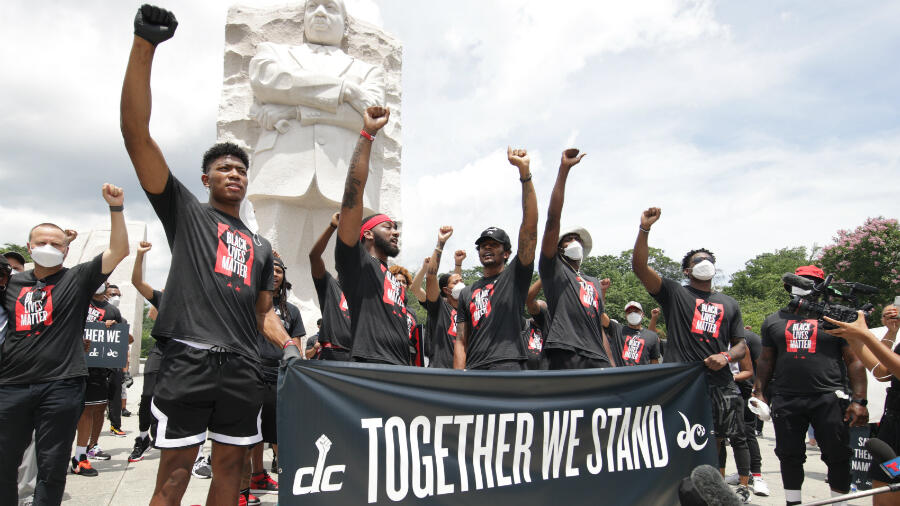 The NBA and NBPA agree on social justice messages players can display on the backs of their jerseys when the league resumes play.
Here is the list of ("suggested") approved terms:
Black Lives Matter; Say Their Names; Vote; I Can't Breathe; Justice; Peace; Equality; Freedom; Enough; Power to the People; Justice Now; Say Her Name; Sí Se Puede (Yes We Can); Liberation; See Us; Hear Us; Respect Us; Love Us; Listen; Listen to Us; Stand Up; Ally; Anti-Racist; I Am A Man; Speak Up; How Many More; Group Economics; Education Reform; and Mentor
Players will have the choice to brandish messages above the number on the backs of their jerseys in place of their names for the first four days. Messages will still be permitted, but with players' last names included if more messages are to come.
The Premier League provided some precedent for this initiative
Players including Kyrie Irving, Dwight Howard and Avery Bradley have concerns that resuming could distract from the fight against racial injustice. The league has left that assessment up to players on an individual basis.
Commissioner Adam Silver has publicly said:
"I think ultimately we can accomplish a lot (for social justice causes) by playing," Silver said on a panel with Caron Butler, Magic Johnson and Chicago Mayor Lori Lightfoot in June. "But as I said, I know there's some roiling going on within the Players Association, and I respect the point of view of those who are saying let's make sure that in returning to basketball, a larger, broader message about social equality, racial issues are not somehow lost."
Photos by Getty Images