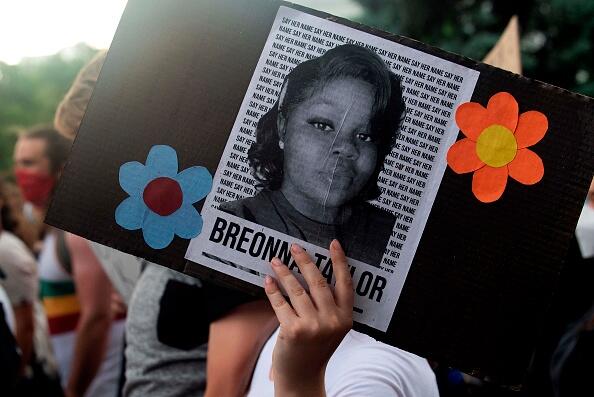 The city of Louisville announced a $12 million dollar settlement in the wrongful death lawsuit filed by the family of Breonna Taylor.
The settlement includes police reforms to be adopted by Louisville Metro Police.
Taylor's case has become a rallying cry in the ongoing national protests against police brutality, and the announcement comes as Daniel Cameron, the Kentucky Attorney General, continues to conduct a criminal investigation. Cameron, is considering whether to bring charges against the three white officers involved in Taylor's death.
The Louisville Metro Police Department fired Brett Hankison, and the two other officers Jonathan Mattingly and Myles Cosgrove have been reassigned to administrative duties.
Jamarcus Glover boyfriend of Breonna Taylor turned down the plea deal that would have implicated Breonna in his alleged crimes
Glover was offered a plea deal if he would claim that she was part of an "organized crime syndicate."
Jamarcus Glover, was the focus of the no-knock raid which took her life and pled not guilty to drug charges. Prosecutors were willing to give him a plea deal if he implicated Taylor in his alleged crimes. Glover was given the offer by the Jefferson Commonwealth's Attorney's office to avoid a 10-year prison sentence and be sentenced to possible probation. In return for leniency, he was required to admit he and "co-codefendants," were involved in a drug trafficking operation in Louisville.
The crime syndicate sold drugs from an abandoned warehouse and vacant houses in Louisville.
Glover,turned down the plea deal.
"the lengths to which those within the police department and Commonwealth's Attorney went to after Breonna Taylor's killing to try and paint a picture of her which was vastly different than the woman she truly was," Sam Aguiar An attorney representing Taylor's family said. "The fact that they would try to even represent that she was a co-defendant in a criminal case more than a month after she died is absolutely disgusting."
Five Louisville policemen, including the three who shot and killed Breonna Taylor, were involved in a similar violent raid on an incorrect house in 2018.
Jonathan Mattingly, Brett Hankison and Myles Cosgrove were all part of the October 2018 raid of Mario Daugherty's house.
The Daugherty family sued the Louisville city government after the 2018 raid which ended with no charges filed against Daugherty, his girlfriend Ashlea Burr or their daughters, who were 14 and 13 at the time.
In the Daugherty case, the officers were supposed to knock first, but body-camera footage shows they opened the door, threw flashbangs and asked questions later.
"We just wanted to get our story out there because we didn't want this to happen to anybody innocent and anybody innocent's life to get lost," Daugherty said.
Daugherty's lawsuit claims that police obtained the warrant based on a four-month-old complaint that had been filed before he even moved in. Police did not charge Daugherty with a crime.
Audio from the investigation into Breonna Taylor's death conflicts accounts of whether police identified themselves before breaking down Taylor's door.
Kenneth Walker, was audibly upset and described multiple knocks, and both he and Taylor shouting "who is it" to no response. He said as the couple approached the door, it came "off the hinges" and HE fired a shot. When a "lot of shots" were fired, the two dropped to the floor.
That shot Walker fired struck Sgt. John Mattingly in the leg, who maintains that officers identified themselves repeatedly before breaking down Taylor's door. The narcotics warrant that police say they were serving at Taylor's door was a no-knock warrant, but Mattingly told investigators the officers were instructed to knock on the door.
"I verbally heard, 'We have it signed as a no-knock, but we're not going to go that route.'"
Neither Mattingly nor Walker deny that the police officers banged on the door. Mattingly, however, said that police repeatedly knocked on the door.
"I probably banged on the door six or seven different time periods," Mattingly said. "Seems like an eternity when you're up at a doorway. It probably lasted between 45 seconds and a minute," he said. "We banged on it, no response. Banged on it again, no response. At that point we started announcing ourselves: 'Police! Please come to the door! Police! We have a search warrant!'"
After knocking, police decided to break down the door, Mattingly was the first into the apartment.
The lights were off, but Mattingly described seeing Walker and Taylor side by side down a hallway.
"As soon as I clear (the door), he fired. Boom. It was almost like at the shooting range when two things flip at the same time and you've got to shoot, no-shoot," he said. "They were like shoulder-to-shoulder."
Mattingly had been hit. "So I just returned fire. I got four rounds off," he said. It's unclear if Mattingly's shots struck Taylor.
Mattingly then retreated to the street, where he fell and was dragged away by other officers, but could hear more gunshots.
Walker said the one shot he fired was meant to be a warning shot. "I'm trying to protect her," he said. It was later that he realized they were police officers.
Photos by Getty Images