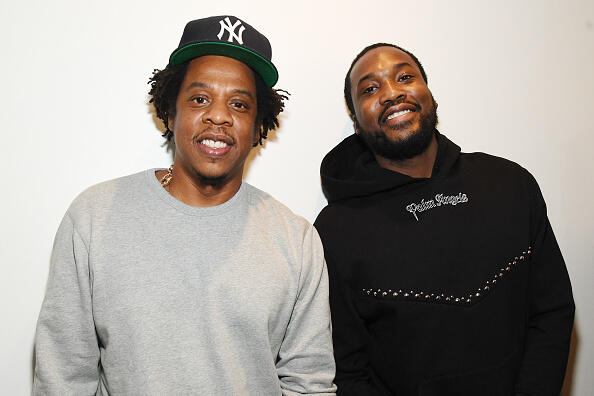 Meek Mill and Jay-Z partnered with the National Sheriffs' Association to deliver protective gear to every jail in the country in an effort to curb the spread of coronavirus.
The Reform Alliance will partner with the sheriffs' association to distribute masks and other equipment to prison staff.
"America's sheriffs are grateful to the REFORM Alliance for providing the scarcely available life-saving equipment that are vital to the maintaining their jails during the pandemic," said incoming National Sheriffs' Association President Dave Mahoney. "These masks will ensure sheriffs are able to keep their jails as safe and healthy as possible. We look forward to partnering with REFORM on areas as we move forward."
The Reform Alliance has already sent more than 100,000 surgical masks to Rikers Island and other prison facilities. The group has urged federal and state lawmakers to reduce incarcerations by sending elderly and nonviolent criminals to home confinement or suspending jail sentences for technical violations.
"Law enforcement officers put their lives on the line every day to keep our communities safe," said Reform Alliance chief advocacy officer Jessica Jackson. "We're proud to partner with the National Sheriffs Association to help protect them and vulnerable populations in our jails from the coronavirus. We've seen how rapidly the virus can spread through jails and how failure to stop the spread behind bars puts local communities at risk. We've also seen sheriffs throughout the country adopt evidence-based solutions to get incarcerated people out of harm's way and remain in contact with loved ones. We hope this is one of many opportunities to work with sheriffs across the nation."
Photos by Getty Images