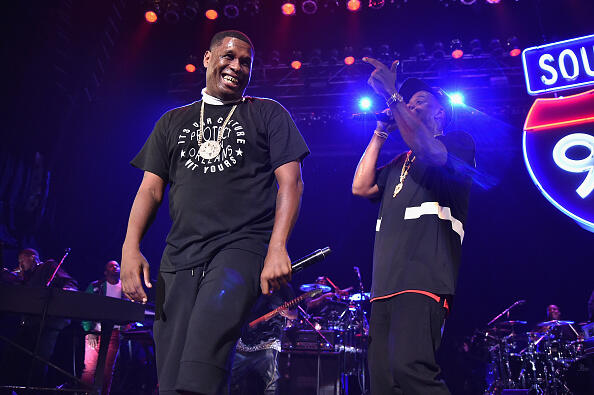 Jay Electronica dropped his highly anticipated debut album "A Written Testimony" but, not everyone is feelin' it or the rapper's elite lyricism.
Peter Rosenberg, the outspoken host of Hot 97's morning show, wasn't a fan of one of Jay's lines and took to tweet to express his feelings.
Rosenberg tweeted, "'My feet might fail me, my heart might ail me. The synagogues of Satan might accuse or jail me' Not feeling this bar from Jay Electronica, and I know I'm not the only person who felt a way about it."
He went on to clarify his comments, tweeting, "As a Jew, it puts me in a bad position. I can ignore the fact that I instantly felt a pang of discomfort and offense and basically sell out my culture, or I can be accused of being the "Jewish media" hating on this man. But it's how I felt. The line offended me."
However, social media quickly pointed out that the bars Rosenberg was speaking of, we actually NOT from Jay's debut album, but instead from the album "Ghost of Soulja Slim" where the rapper says, "And I bet you a Rothschild I get a bang for my dollar/The synagogue of Satan want me to hang by my collar."
Well, when the rapper caught wind of the what the radio host had to say, he wasted no time responding. Tweeting,
"We sat down in an interview before and talked about my stance in these matters, and it's there for anyone to go pull up. were you offended then? then you quoted better in tune w the infinite which was released in 2014, so what #AWrittenTestimony made you go back and listen to BITWTI, and you were retro offended? if you have a problem w the term Synagogue of Satan, don't take it up w me, take it up w the writers of the New Testament. Don't play w me, Peter, I ain't the one. and you know this. i come in peace, and I go in peace. let's keep it that way."
Wow. Well then.
He followed up with a few more tweets and calling Rosenberg a "clout chaser" saying,"clout chasing us at an all-time high," and ending with "and for the record. I stand on every single word I said on this album. #AWrittenTestimony #ISaidWhatISaid."
In addition to Jay calling him a "clout chaser", fans also called out Rosenberg for being a culture vulture.
Since then, Rosenberg has responded via his show.
SEE HOW IT ALL WENT DOWN BELOW:
Photo: Getty Images